Printed Booklets, Banners and Signs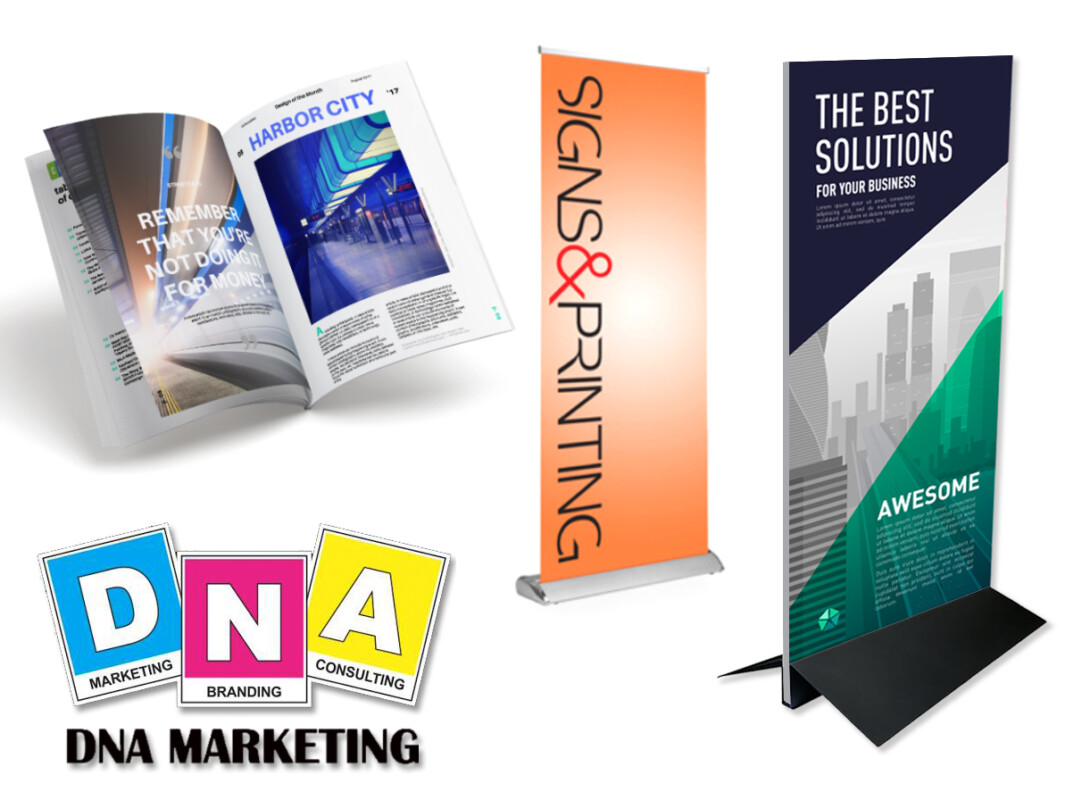 Using printed booklets, banners and signs is a great way to advertise your business.
DNA Marketing is a local company and your one-stop shop for booklet printing, banner printing, business signs, and more. Our customized materials come in a wide range of colors and can be made to meet your needs.
Booklet Printing
You can communicate your message effectively with printed booklets. It is possible to produce them from your own files in any quantity and in any quantity. These are perfect for employee manuals, informational booklets, and giveaways. Marketing with full-color booklets is highly effective. Using them can be a cost-effective way to reach potential customers. Any type of business can use them. Using them to highlight seasonal inventory or specials on a quarterly or monthly basis is a great idea. They can replace brochures and flyers as a good way to display informative content.
Banner Printing
Whether you run a small business, or a large corporation, or are an entrepreneur, retractable banners and signs can help you spread your message. With their versatility and easy assembly, these signs can be used for a wide range of purposes. Your company or product can be advertised at trade shows, events, and anywhere else with retractable banners. In addition, to counter displays, they are also great for showrooms. In addition to being lightweight and easy to set up, these banners are a great addition to any storefront. Retractable banners, also known as roll-up banners, can be displayed indoors or outdoors. You can hang them from the ceiling or along the wall. You can also use these versatile signs at farmers' markets and mall kiosks.
Business Signs
Whether you're looking to advertise your business on the inside or outside, signs are a great way to get your message across. You can use them to direct people to your shop and to tell them about the products and services you offer. Businesses need signs that provide useful information and are eye-catching. You can use them to advertise special sales and events, as well as describe your products for sale. Furthermore, they are a great way to increase brand recognition. Several factors determine how effective a business sign is, such as graphics, fonts, colors, and size. Additionally, the sign's height and location play a role in its obviousness. It is also important to pay attention to how the background color contrasts with the text. Simple and clear business signs are the best. This will allow potential customers to read your message and decide whether to stop by. Digital printing is an option if you want to print graphics with more complexity. You can customize these to fit your needs by choosing from many different colors and layers.
If you want to make a great first impression for your grand opening or trade show, you need to choose the right advertisement media. A team of highly skilled marketing experts at DNA Marketing can help you achieve all your marketing objectives. We invite you to browse our website for more information and to get in touch today to get one step closer to growing your business to its fullest potential.
Printed Booklets, Banners, and Signs | Hallandale Beach FL | DNA Marketing
Services:
Fleet and Vehicle Wraps
Custom Labels and Stickers
Resort Retail Branding
Promotional Advertising Products
Trade Show Exhibits
Digital Signage EPTV
Creative Design
Wall Murals
Banners Posters and Displays
Window Graphics
Signs
Dimensional Logos
Catalog Printing
Brochure Printing
Booklet Printing
Quality, Experience, and Trust
ECO Friendly
Instant Pricing
Call: 954-210-7326
Visit: https://www.dnamarketingllc.com
#printedbookletsbannersandsigns #printedbooklets #printedsigns #printedbanners